Vogeldagboeken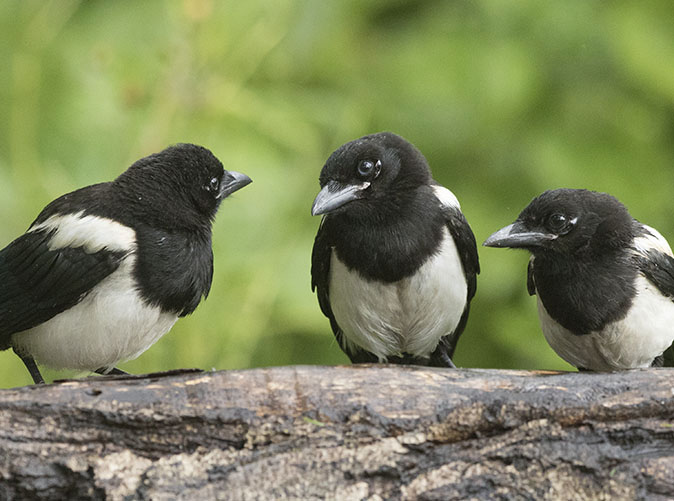 * Ekster, Pica pica, Common Magpie, Pie bavarde, Elster *
Drie jonge eksters. Moet je eens naar hun ogen kijken! Het lijkt alsof ze een serieus gesprek voeren!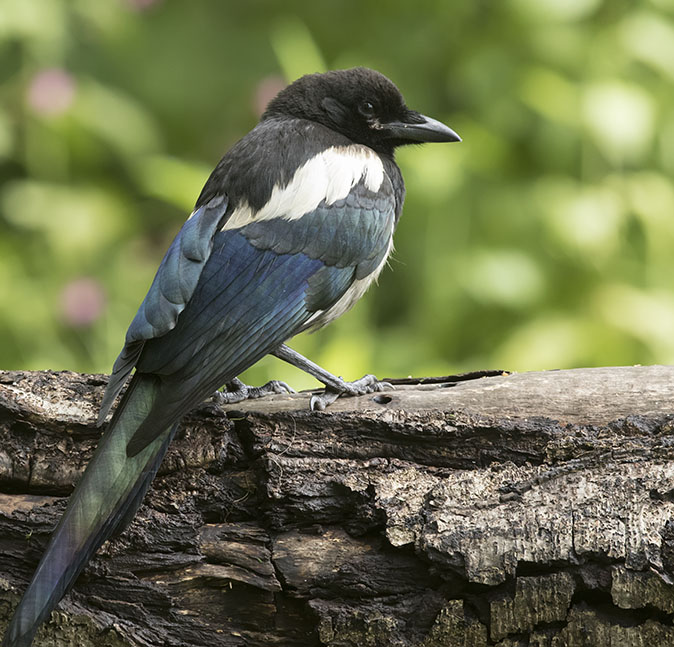 Op een grote steenworp afstand
woont Inge Duijsens, in Zoetermeer. In haar tuin heeft ze een fotohut.
Iets onder ooghoogte is voor de hut een vijvertje gemaakt en verder zijn er tussen het 'normale' groen
boomstammen en -stronken gelegd, die desgewenst gemakkelijk in een andere positie gezet kunnen worden.
Nu de vogels
geruime tijd gewend zijn aan het voeren, komen ze op je lens af als vliegen op licht.
Van korte afstand kan je dan prachtige foto's maken: immers, hoe dichterbij hoe scherper.
Vorige week was ik bij Inge in de hut, waar zich toen vooral grote bonte spechten en eksters lieten zien.
Overigens duiken overal fotohutten op waar je je tegen betaling kan uitleven op allerlei diersoorten.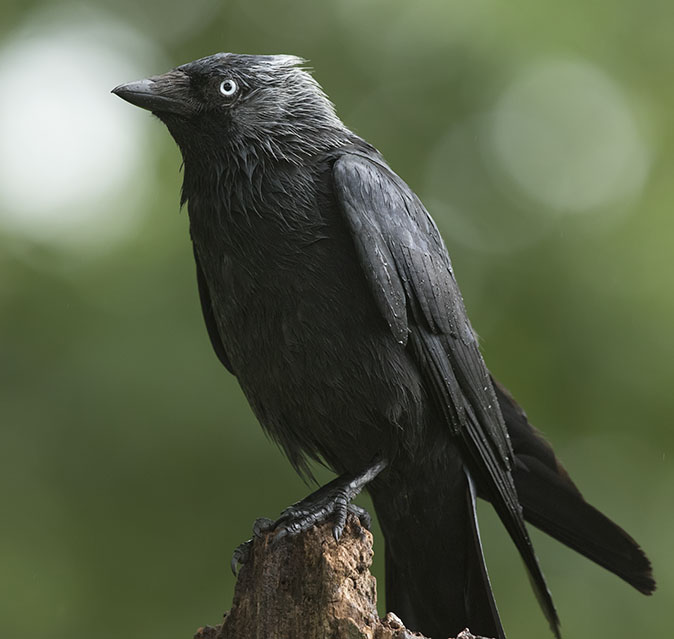 * Kauw, Corvus monedula, Western Jackdaw, Choucas des tours, Dohle *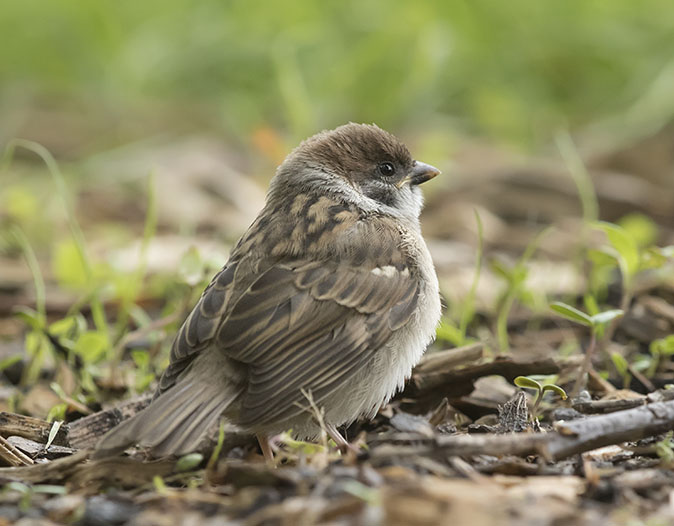 * Ringmus juveniel, Passer montanus, Eurasian Tree Sparrow, Moineau friquet, Feldsperling *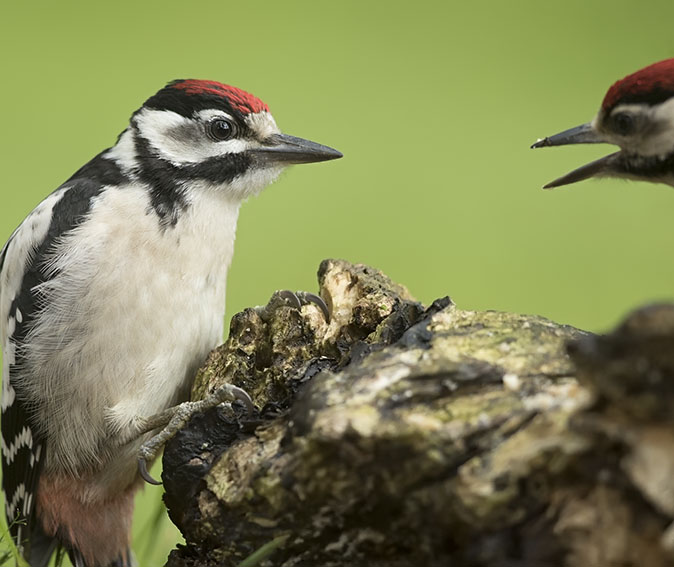 * Grote bonte specht, Dendrocopos major, Great Spotted Woodpecker, Pic épeiche, Buntspecht *
Het is niet zo moeilijk om grote bonte spechten in je tuin te lokken. Pindakaas, nootjes,
universeel voer en soortgelijke mengsels, en daar komen! Zeker als hun nest vlakbij is.
Ma specht liet zich niet zien. Pa wel (rood achterhoofd), die was onvermoeibaar zijn kroost
(rood bovenop kop) aan het voederen. En onderling maar bakkeleien: net kinderen...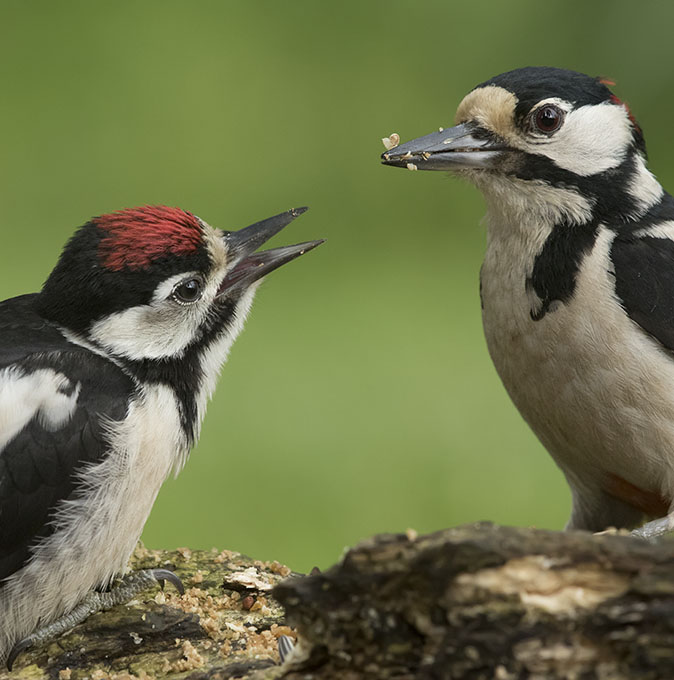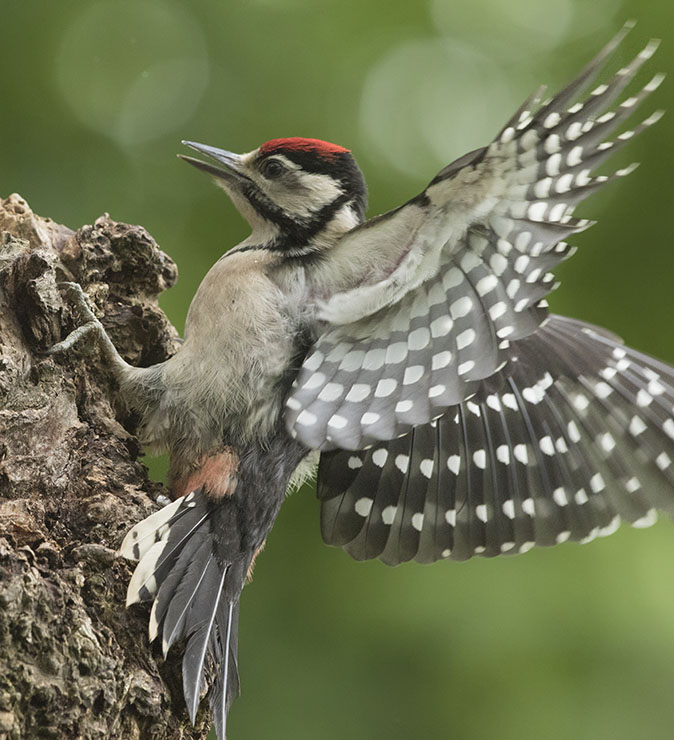 Bij de foto
in het
vorige Vogeldagboek
van grauwe vliegenvanger met insect in de snavel,
had ik als 'woordgrapje' geschreven Maja de Bij. Zoiets kan ik beter niet meer uithalen:
het was namelijk een soort wespvlinder en een heleboel lezers wezen me daar terecht op.
Ik had er bij moeten zetten: Maja de Hoornaarvlinder (Sesia apiformis), een nachtvlinder.
De lezersvraag over de wielewaal
leverde nog veel meer reacties op. De uitdrukkingen
'Pleased to meet you' of 'Welkom Pietje' zijn een ezelsbruggetje voor de (zang van de) roodmus.
Een vogeltje dat meestal schaars wordt gezien; in sommige jaren komen ze invasiegewijs voor.
De melodie van de roodmus lijkt op 'Pleased to meet you' uit Sympathy For The Devil van de Rolling Stones.
De zang van de wielewaal is zo kenmerkend dat daar kennelijk geen geheugensteuntje voor nodig is.
Een lezer uit de Kempen schreef:
"Bij ons wordt de wielewaalroep wel eens geïnterpreteerd als:
Zijn ze (de kersen) rijp. Veel schade zal de wielewaal echter niet aan de kersenoogst doen,
aangezien ze hier heel zeldzaam zijn." Over het begrip 'kegelen' schrijf ik in volgend Vogeldagboek.