Vogeldagboeken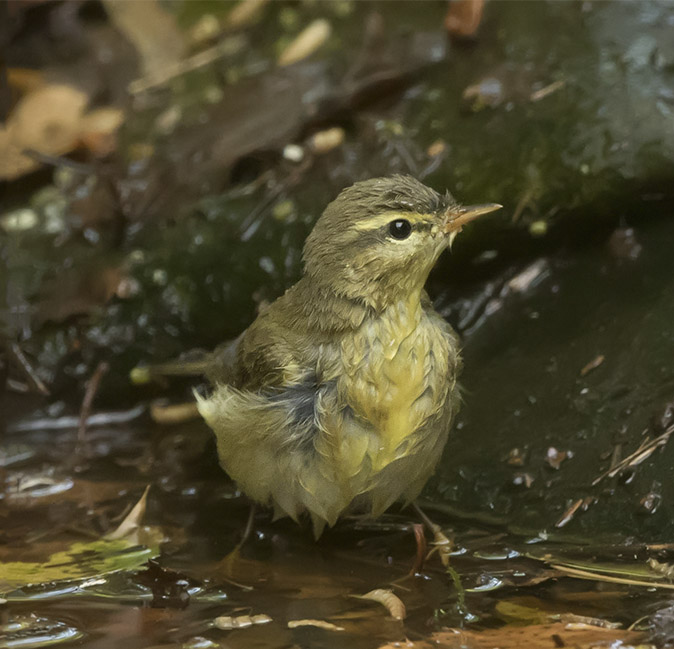 * Fitis, Phylloscopus trochilus, Willow Warbler, Pouillot fitis, Fitis *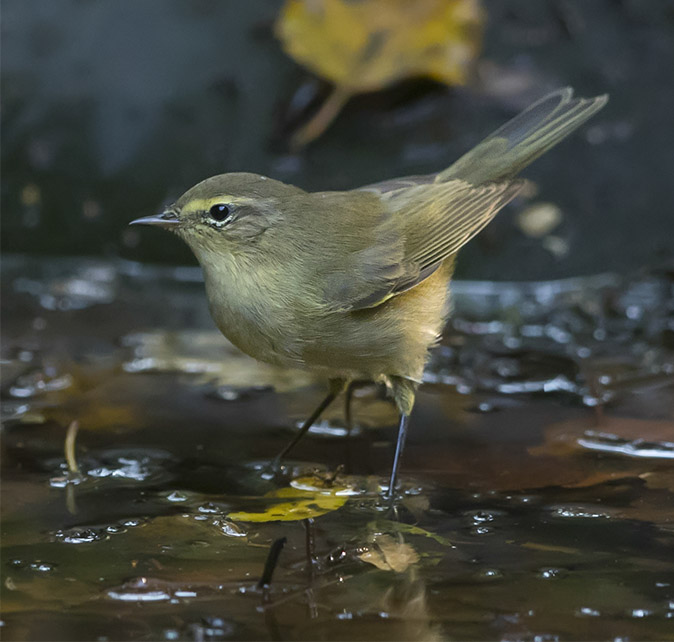 * Tjiftjaf, Phylloscopus collybita, Northern Chiffchaff, Pouillot véloce, Zilpzalp *
In onze 'vakantievijver' op Lanka
zaten dagelijks tjiftjaffen te badderen. Ze riepen ook volop.
In toenemende mate overwinteren tjiftjafs in West-Europa: door de zachtere winters
nemen ze het risico van doodvriezen boven de risico's van een lange trektocht naar Afrika.
In het voorjaar kunnen ze dan, fit als ze zijn, als eerste een partner uitzoeken
en de beste nestlocaties innemen. Ook andere trekkers volgen deze 'nieuwe' overlevingsstrategie.
Eenmaal trof ik een fitis
in het vijvertje. De ouders zijn (zeer waarschijnlijk) allang
naar Afrika gevlogen, jonge vogels gaan later. Kenmerk van die jonkies is hun gele verenpak.
Voor zover mij bekend overwinteren fitissen (nog) niet of nauwelijks in Europa.
Maar er komen steeds meer 'nieuwe' overwinteraars, zoals zwartkoppen en ooievaars.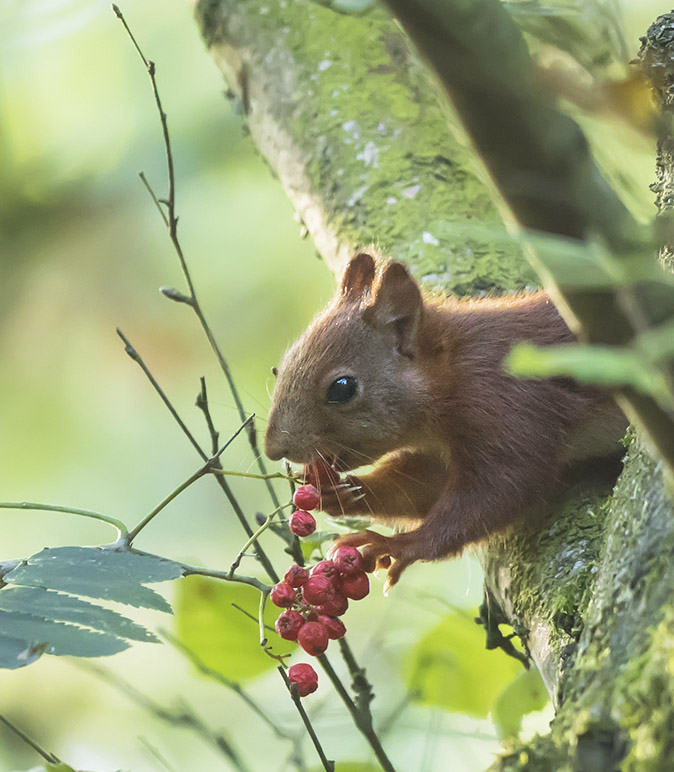 * Eekhoorn, Sciurus vulgaris, Red Squirrel, Écureuil roux, Eichhörnchen *
Een jonge eekhoorn eet bessen hoog in een boom boven ons vakantiehuisje in Anholt.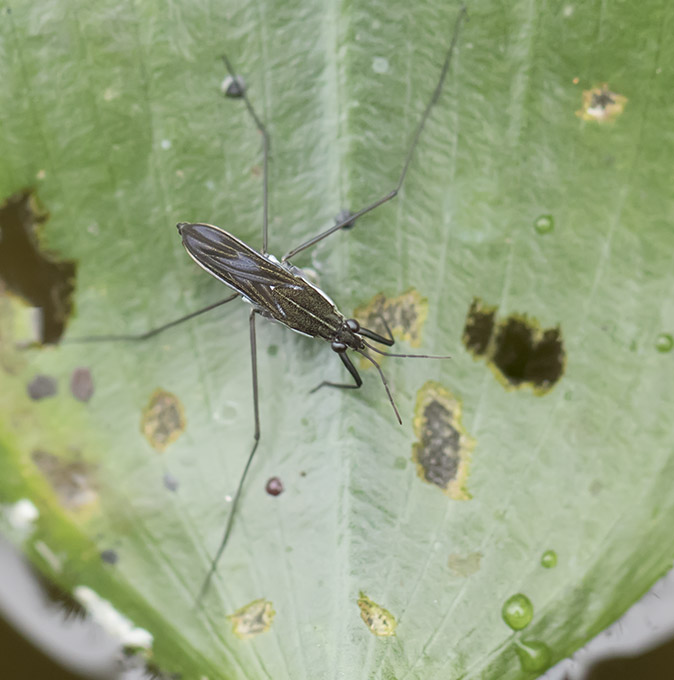 * Zilveren schaatsenrijder, Gerris argentatus, Little Pondskater, Gerris ingérable *
In de 'doorwaadbare' vijvers van het bezoekerscentrum Natuurmonumenten Dwingelderveld
zag ik deze zilveren schaatsenrijders: volwassen exemplaren (imago; boven) en nimfen.
In ons land komen tien of elf soorten schaatsenrijders voor. De 'zilveren' is de kleinste.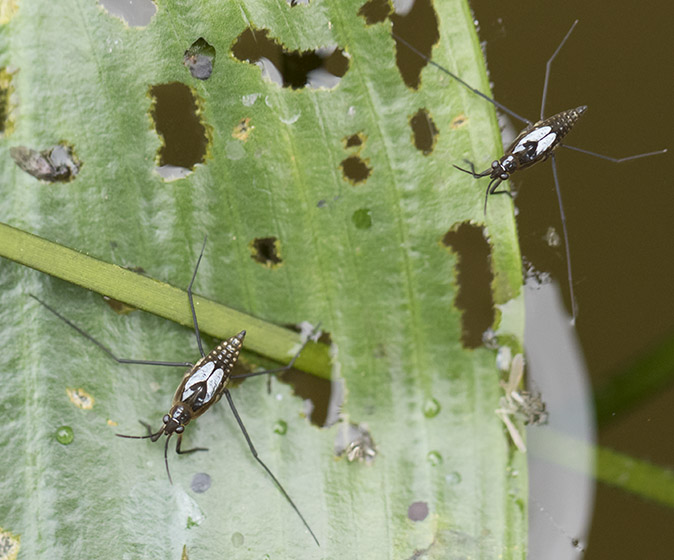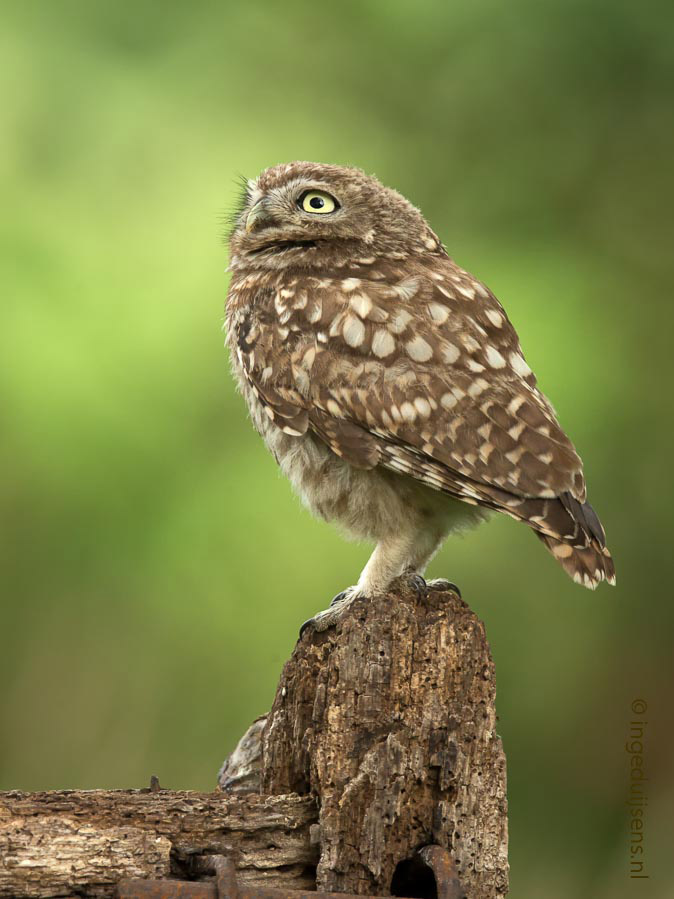 * Steenuil, Athene noctua, Little Owl, Chevêche d'Athéna, Steinkauz *
Foto en tekst Inge Duijsens: Half juli fotografeerde ik deze jonge steenuil in Gelderland.
De jonge steenuilen waren al enkele weken geleden uitgevlogen. Dit uiltje luisterde oplettend
naar zijn vader die naar hem riep dat het tijd werd om op eigen benen te gaan staan.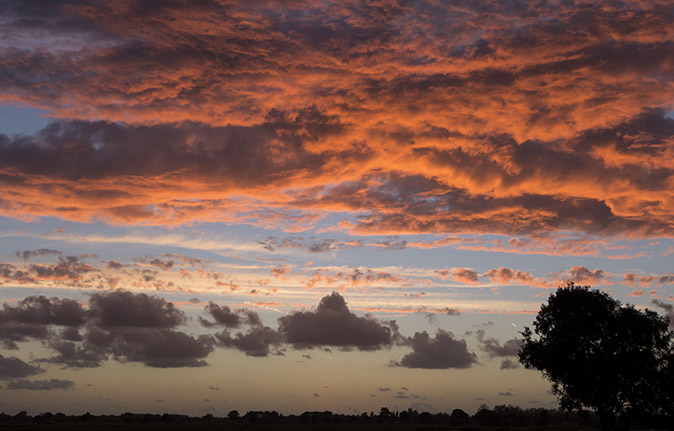 Foto gisteravond in De Wilck gemaakt, met op de achtergrond de contouren van Weipoort/Zoeterwoude.
Ik zie liever avondrood
dan morgenrood, want dat laatste betekent in elk geval regen in de sloot.
Met avondrood weet je dat nooit zeker, maar de lucht was vanmorgen stabiel genoeg voor een ritje
naar de Maasvlakte, zoals ik elk jaar een paar keer doe. Uiteindelijk zonde van de energie,
want er was vrijwel geen vogel te bekennen. Even dacht ik op afstand in de Sluftervallei
een smelleken te zien, maar toen hij ging vliegen bleek het een jong mannetje torenvalk...