Vogeldagboeken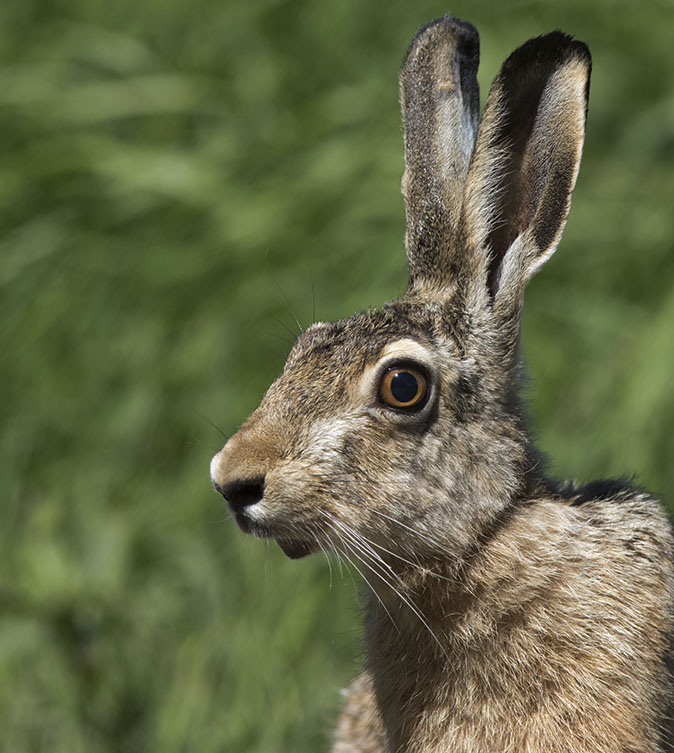 * Haas, Lepus europaeus, Brown Hare, Lièvre d'Europe, Feldhase *
Er was eens,
op een mooie augustusdag in De Wilck, een Haas die op een kruidenrijk weiland tevreden zat te knabbelen
van al dat lekkers dat de dans van omringende turbograslanden was ontsprongen. De Man zag dat de Haas gelukkig
was, en hetzelfde gevoel van geluk stroomde door hem heen. Hij besloot een poging te ondernemen om hun gevoelens
te gaan delen. Langzaam lopend, nu en dan stoppend maar doorlopend geruststellende woorden producerend, liep
de Man richting Haas. Die knaagde rustig verder, maar aan de vele bewegingen van zijn lepels te zien, die hij telkens
richting Man draaide, luisterde hij aandachtig. De Haas gedoogde hem volkomen - de Man had niet anders verwacht.
Al babbelend naderde hij tot een meter of drie, gescheiden door prikkeldraad, de gemeenste uitvinding van de mens.
De Man praatte
een poosje door, liep een eindje verder, keerde terug en ging weer bij de Haas staan. Die zag
dat deze Man geen kwaad in de zin had en communiceerde weer volop met zijn oren. Om te laten merken
dat hij zich op zijn gemak voelde, ging hij kalm verder met zijn ontbijt van grassalade. Na een aantal minuten
was er 'iets' waardoor de Man merkte dat het moment voorbij was en met een vriendelijke groet wandelde hij terug.
Vanaf een afstandje zag hij dat de Haas zijn buik (ervan) vol had, zich omdraaide en de Man zijn hoge achterlopers liet zien.
"Beste mensen, dit was een waar verhaal. Ik weet het zeker, want die Man, dat was ik."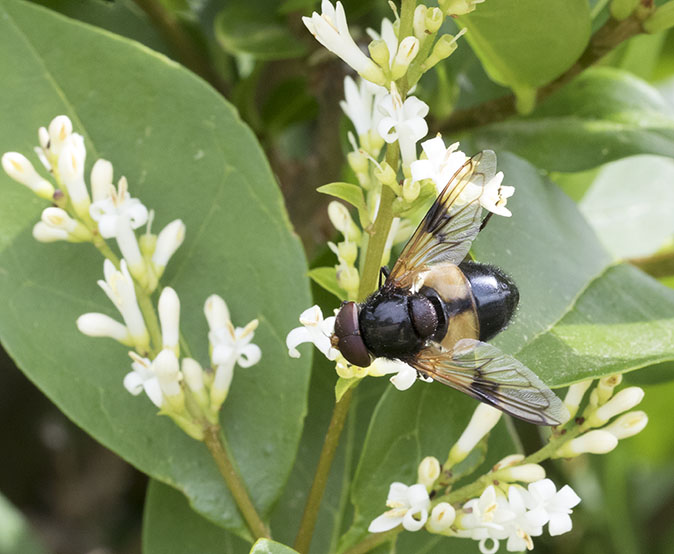 * Witte reus of Ivoorzweefvlieg, Volucella pellucens, Pellucid Hoverfly, Volucelle transparente,
Gemeine Waldschwebfliege *
Een opvallend grote en breed gebouwde hommelzweefvlieg. Een soort die in heel Nederland voorkomt. Foto Drôme.
Opvallende kenmerken: achterlijfsegment is crèmewit, vleugels met gele basis en zwarte middenvlek.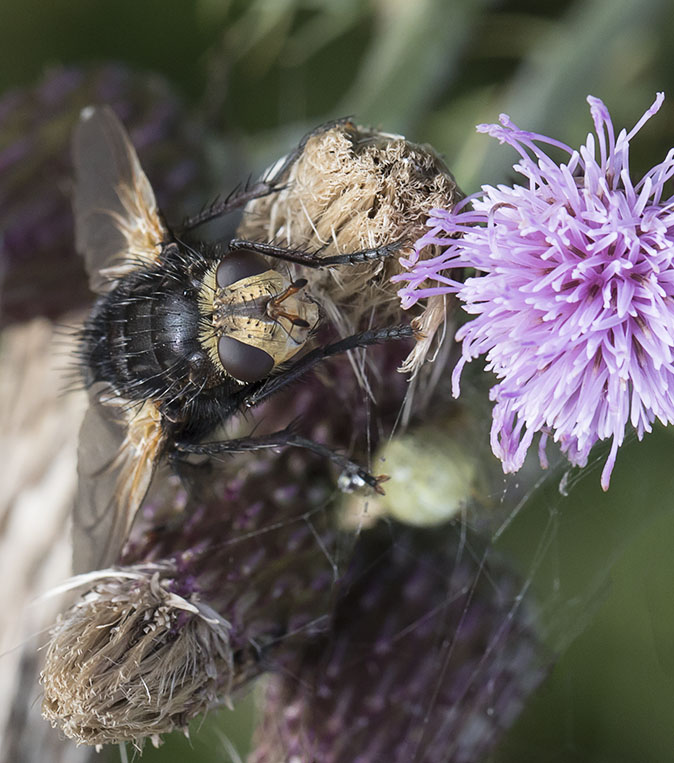 * Woeste sluipvlieg, Tachina fera, Hedgehog Fly, Tachinaire sauvage, Igelfliege *
Er zijn in de Benelux meer dan driehonderd soorten sluipvliegen. Dit is de algemeenste. Dwingelderveld.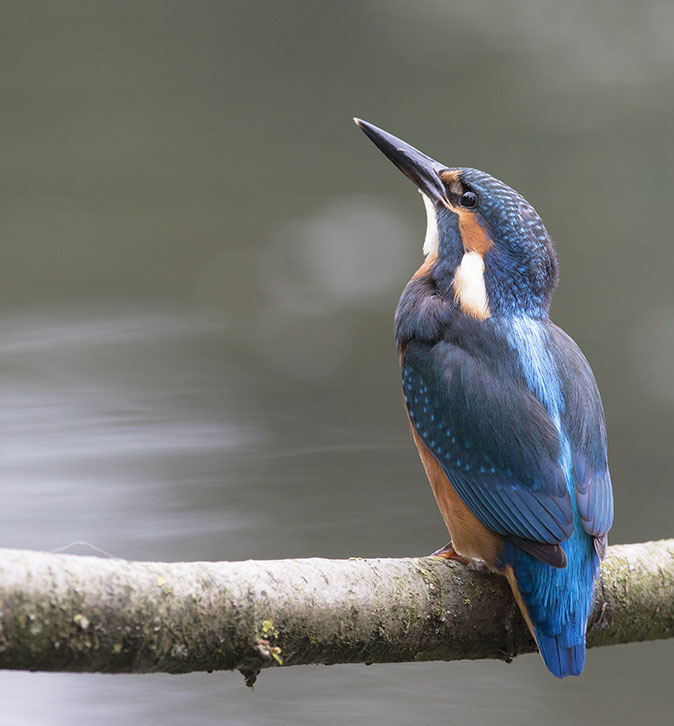 * IJsvogel, Alcedo atthis, Kingfisher, Martin-pêcheur d'Europe, Eisvogel *
Op kleine plasjes met begroeiing langs de oevers, kan je nu regelmatig ijsvogels treffen. Zoetermeer vorige week.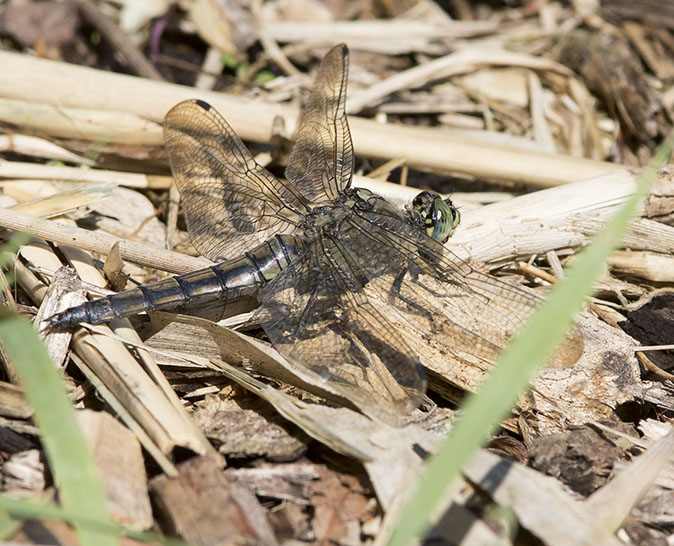 * Gewone oeverlibel, Orthetrum cancellatum, Black-tailed Skimmer, Orthétrum réticulé, Großer Blaupfeil *
Ik dacht dat dit een zwarte heidelibel was, maar het is een oud vrouwtje (donkerbruin) gewone oeverlibel.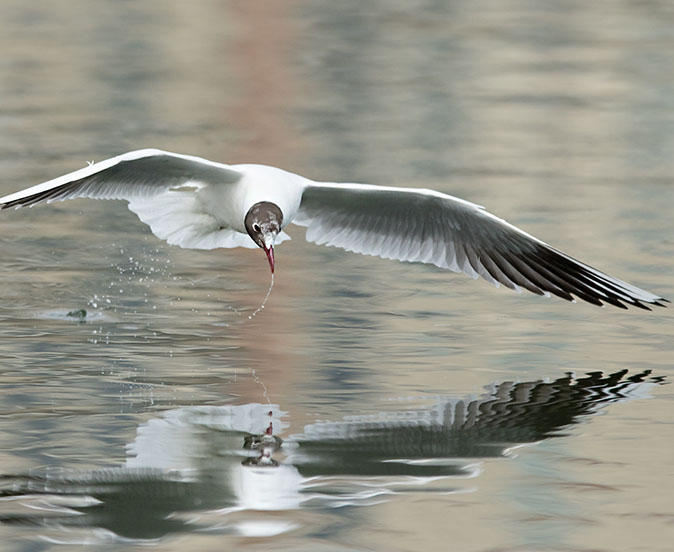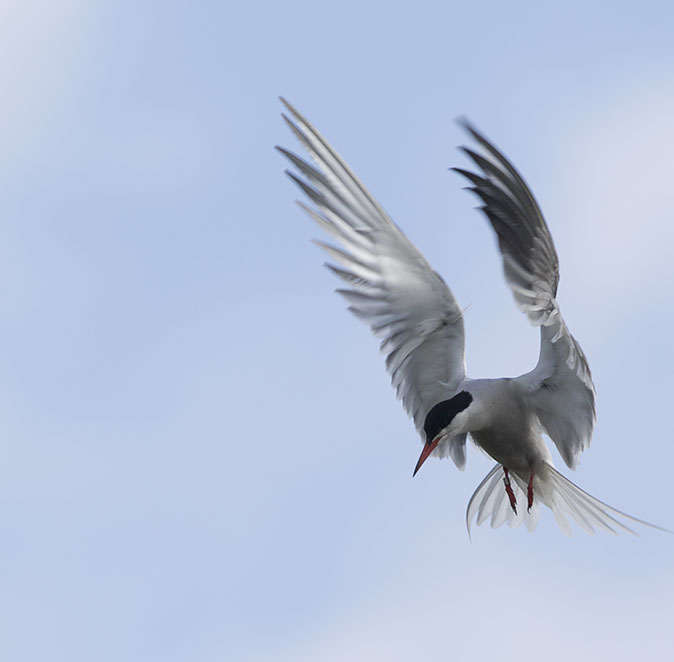 * Kokmeeuw, Chroicocephalus ridibundus, Black-headed Gull, Mouette rieuse, Lachmöwe *
* Visdief, Sterna hirundo, Common Tern, Sterne pierregarin, Fluss-Seeschwalbe *
Twee nog niet eerder in Vogeldagboek gepubliceerde foto's. Kokmeeuw in april op de Zoetermeerse Plas
en visdief in juli (weet niet meer waar). De meeste visdieven koersen intussen naar Afrika, waar ze overwinteren.
***
Recensie
Vogelwandelingen in en om Zutphen
Vogelwerkgroep Zutphen e.o., ISBN 978 90 278115 69 4, € 10,00 (verzending € 3,50)
In het fraaie landschap rond Zutphen kan je heerlijke vogelwandelingen maken. Dit handige gidsje geeft tekst en kaarten.
Klik hier voor een uitgebreide bespreking