Vogeldagboeken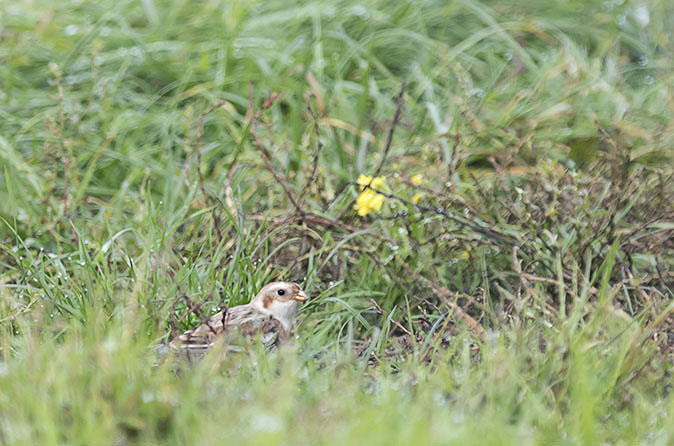 * Sneeuwgors, Plectrophenax nivalis, Snow Bunting, Bruant des neiges, Schneeammer *
Dinsdagmorgen, weidevogelreservaat De Wilck, Benthuizen. Tussen een groep naar eten zoekende spreeuwen
beweegt zich een kleine lichtgekleurde vogel, laag tegen de grond gedrukt. Een sneeuwgors in het weiland!
Naar het zuiden trekkende sneeuwgorzen kunnen soms in flinke zwermen in ons land te zien zijn.
Maar dan bijna altijd langs de kust: strand, duinen, (zee)dijken. In het binnenland is het een zeldzaamheid.
Wel van dichtbij maar slechts heel kort en alleen de bovenzijde krijg ik te zien. Voordat ik goede foto's kan maken,
vliegen alle vogels op voor een sperwer. Daarna de gors niet meer gevonden. Zelfs in winterkleed
zijn sneeuwgorzen aangenaam om naar te kijken: onder een niet eerder gepubliceerde foto uit 2011, Brouwersdam.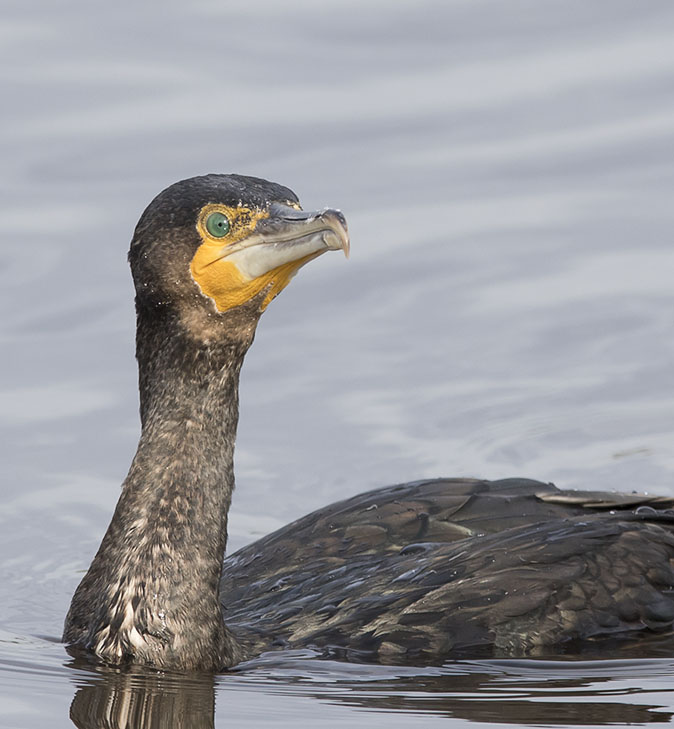 * Aalscholver, Phalacrocorax carbo, Great Cormorant, Grand cormoran, Kormoran *
De kleur ogen van aalscholvers doet me altijd denken aan blauwgroen zeewater langs warme kusten. Of aan jade.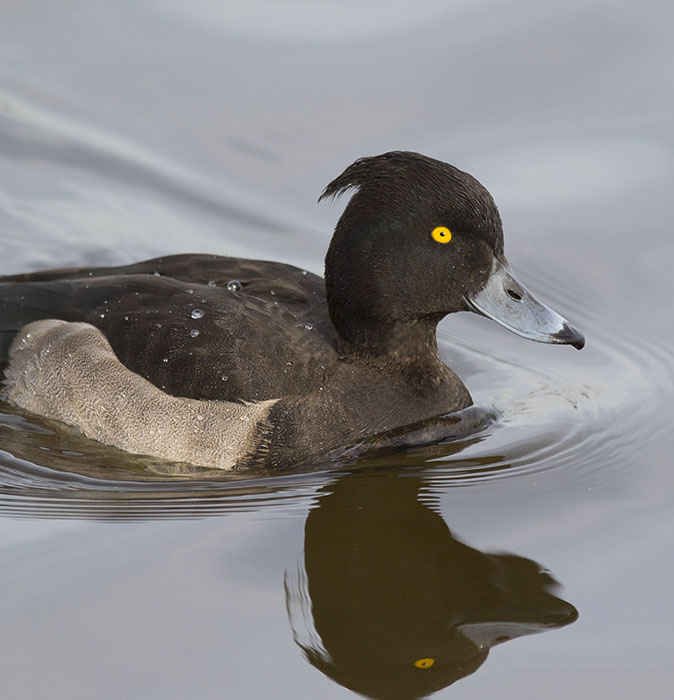 * Kuifeend, Aythya fuligula, Tufted Duck, Fuligule morillon, Reiherente *
Ook gisteren op de Starrevaart dit mannetje kuifeend in eclipskleed.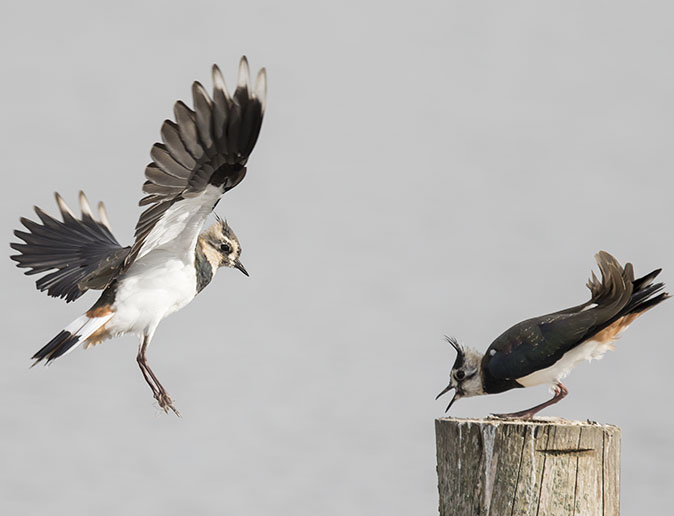 * Kievit, Vanellus vanellus, Northern Lapwing, Vanneau huppé, Kiebitz *
Bij de aanleg van de ondiepe Vogelplas Starrevaart (natuurcompensatie) waren enkele slikken gemaakt.
Een tiental jaren leverde dat bijzonder interessante en ook zeldzame steltlopers op. Helaas is het slik onder water
verdwenen en is de plas alleen nog maar 'toegankelijk' voor water- en moerasvogels. Ook leuk, toch minder...
Door de verdwijning van het slik (hooguit bij erge droogte is er nog wat van te zien) zijn de grote groepen rustende
kieviten, goudplevieren, wulpen enz. ook verdwenen. Er staan nog wel paaltjes, en daar wordt flink om gevochten.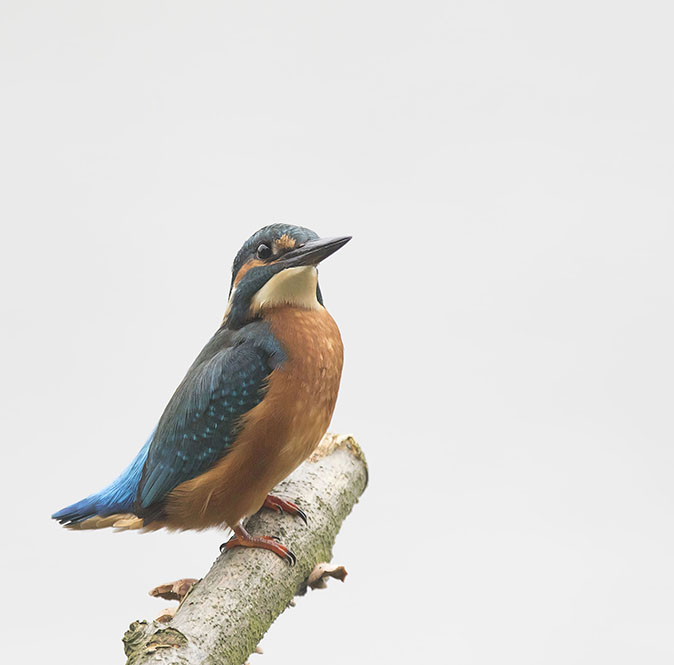 * IJsvogel, Alcedo atthis, Kingfisher, Martin-pêcheur d'Europe, Eisvogel *
Zat vanmiddag een boterham te eten, hoorde ik 'ergens' achter me een ijsvogel roepen. Camera op scherp gezet
en na tien seconden kwam het vogeltje op een tak vlak bij mij zitten! Grijs op poten, zwarte ondersnavel: jong mannetje.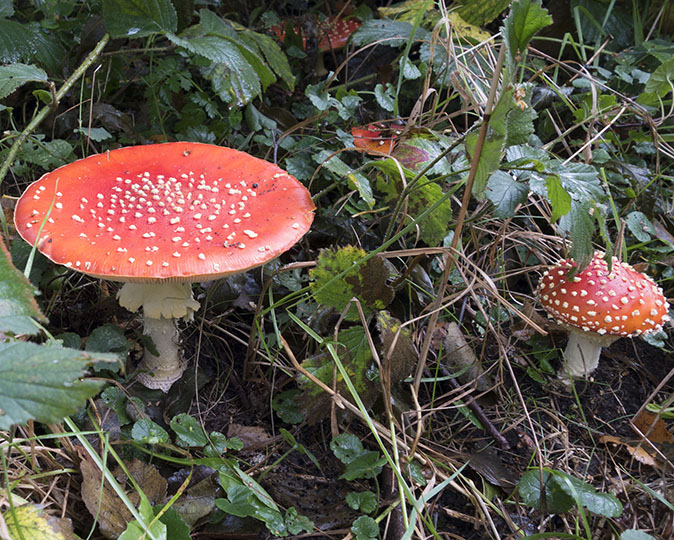 * Vliegenzwam, Amanita muscaria, Fly Agaric, Amanite tue-mouches, Fliegenpilz *
Verstopt tussen de bramenstruiken vond ik langs de Kruiskade een stuk of tien vliegenzwammen. Mooi maar giftig!


De uilenwerkgroepen
in ons land organiseren zaterdag (10 oktober) in Meppel de Landelijke Uilendag 2015.
Het laatste nieuws en wetenswaardigheden van zo'n beetje alle 'Nederlandse' uilensoorten komen aan de orde.
Omdat er veel uilenliefhebbers zijn, vermeld ik deze dag, die gratis toegankelijk is.
KLIK HIER VOOR PROGRAMMA