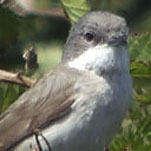 De Vulkaan, Den Haag, 16 april 2009


Let op de >10 khz nootjes aan het eind (als je die nog kan horen!),


zie het omcirkelde deel rechtsboven in het sonogram. Kan zelfs tot 13 khz gaan.
Ze behoren tot de hoogste tonen die The Sound Approach to Birding bij vogels hebben gevonden.